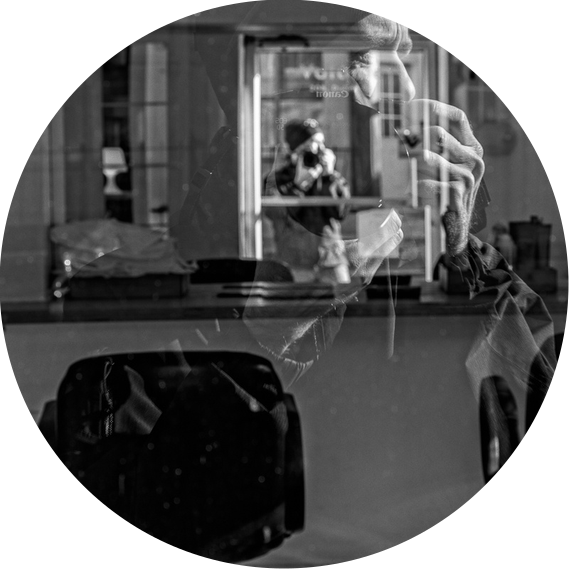 Frédéric resonates deeply with nature and landscapes. Wind, sun, water, soil and sky have a great influence on him. He was born on the North Shore, in Hauterive, a small town in eastern Quebec, Canada. Until the age of 18, he was surrounded by endless forests and the majestic St. Lawrence River and Manicouagan River.

Frédéric keeps cultivating a part of his child's gaze. He can be amazed by small and simple things like clouds with the form of a turtle, a flower growing through the urban concrete or a light that passes thoughts the sky and come to land in reflection on the water.

Frédéric also works as a reporter-cameraman-editor for Radio-Canada. That is what led him to live in Montreal where he has been for over twenty years. He has discovered the richness of urban life. The architectural beauty, the movement and continuous whispering of people coming from diverse backgrounds and the cultural life that give a unique taste to Montreal, are some of the factors that makes him feel at home.

It is his passion for photography that led him to discover the video. Along his research and photographic experiments, he has realized that he is a versatile photographer. He loves to dig into several subject matters. Indeed, everything that touches him is an inspiration to explore with the camera. He is in the moment. He seized the present. He invites spontaneity and improvisation. Frédéric has a sensitivity for people's energy. This allows him to adjust his practices to reveal and to bring out the gifts and personality of the individuals that he photographs.

Photography is his breathing. It is a way of being and it touches him deeply. Through photography, he expresses and communicates his perspective about the world. Ultimately, photography allows him to find a balance in this world where it is very easy, sometimes, to feel dizzy.